Many years ago I came across a version of a photo editing software called Paint Shop Pro, I opened it up and started to have a play around with it, not really knowing much about what you could or couldn't do on this software I decided the best way to learn what was achievable was to jump in and try things out!
Slowly I learnt some basic cut out techniques and loved playing around layering photos ontop of each other, adding a dash of text and getting creative, my simple designs started to become more elaborate and I was increasingly impressed with my efforts.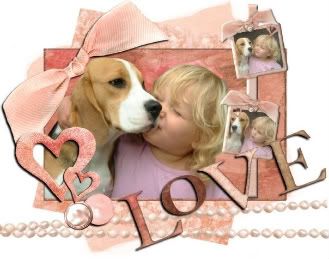 I was unaware of the huge world of digital scrapbooks and was just happy to be able to manipulate my photos in such a creative way. Being self taught I was happy in my own bubble playing around with my personal photographs.
Then I went searching online for some inspiration, help and tutorials for paint shop pro and found I was experimenting making what some people call 'tags' or 'signatures' which are little pictures you can tag onto the end of an email, or place in your signature box on forums.
I joined a online forum and met some amazing ladies who showed me the ropes and helped me improve.
I became a designer on the website and loved making these signatures for other people.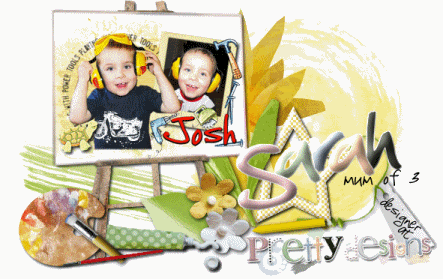 heres a signature I made for myself showcasing some of the tags I'd made whilst on the forum using the 'Like an artist' kit by MD designs
Then as the time went on this forum closed, but I stayed friends with the wonderful women who had taught me so much.
They spread their wings and started exploring the world of digital scrap booking, very much like the traditional scrapbook, but instead of collecting together bits and pieces, craft materials, textured paper and keep sakes which you combine to make a real scrapbook page, you instead can purchase digital scrap kits.
These are virtual kits made up of digital papers and elements, which can be opened into editing software such as paint shop pro, and used to help you create simply amazing artistic designs on your computer.
These scrap kits come in 1000's of different designs but you can find one that is themed to match any photograph you would like to incorporate, and whilst they help you to make wonderful signatures many people like to make a larger page design, more traditional scrapbook sized.
There are some truly stunning designers around and their work is so beautiful it's hard to describe in words alone. take a look at these
amazing pages!
I regrettably have not spent very much time dedicated to making scrap pages in the recent months, and am still trying to improve and reach some of the amazing standards of other designers but here are some of my favourites.
Kit used Fishercat by Shyarka Designs
If you are interested in learning more about photo editing and digital scrap kits please take a look at my photo studio found
here
, I have a simple tutorial for getting started in paint shop pro. I will be adding to this section in the not to distant future with some more tips on the more creative edits and scrapbook techniques.